Bluepoint continues bringing Linux and Open Source technologies to Filipinos nationwide as it hits the road this 2003. Patterned after the highly successful
One Linux Day
event of 2000, the Bluepoint Road Tour 2003 is a yearlong round trip from Manila and back, with stops in Baguio, Batangas, and Iloilo. This tour is made possible with the help of American Power Conversion and Computerworld Philippines.
THIRD STOP: LINUX AND OPEN SOURCE WORKSHOP AT LYCEUM OF BATANGAS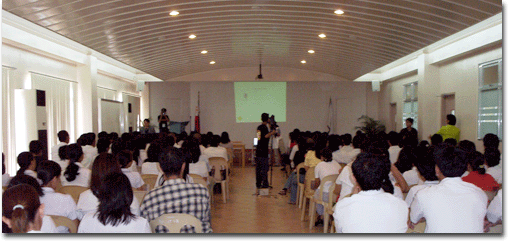 The Bluepoint Road Tour 2003 continued today with a day-long "Linux in LIMA" Open Source workshop at the Lyceum International Maritime Academy AVR in Cuta, Batangas City. More than 200 students and professionals from Batangas attended the event.